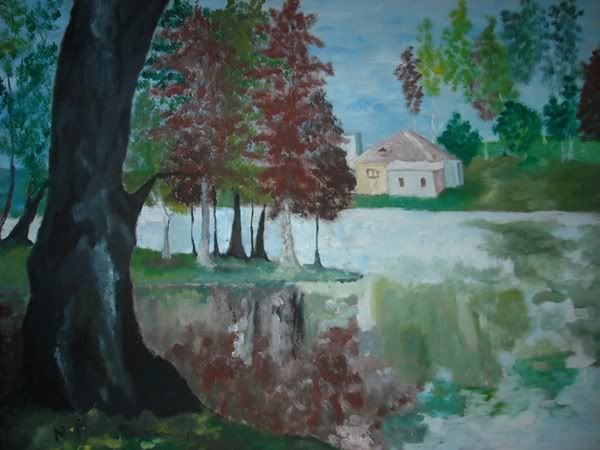 Oil tempera on cardboard.
View of the old park in my town. Now in the place of those houses, it's opened a floating restaurant.
I went just once there, but the service was lousy. I had to wait close to 30 minutes to get my order and when the waitress was showing signs of coming to out table (I was with company) we got up and left.
If you're a tourist in Romania I suggest you be more cunning then the average person here, because you will be deceived, bribed and treated kindly just because you're foreign and you mean source of money and acquaintance. Most of romanian citizens are so, you might encounter good ones too. But I never did.
And in my opinion patriotism doesn't require one to lie about how the country's social state is.
Size: 65/ 34 cm
________________________
Tempera in ulei pe carton.
Vedere din vechiul parc din orasul meu. Acum in locul acelor case este un restaurant. Am fost acolo numai odata pentru ca serviciul este extrem de prost. Am asteptat sa vina cineva la masa noastra o jumatate de ora, si dupa ce una din chelnerite se trezise ca mai existam si noi pe acolo, ne-am ridicat si am plecat. Nu eram numai eu, culmea, cu cineva din afara orasului...deci impresia...ca la romani...
Marime: 65/34 cm