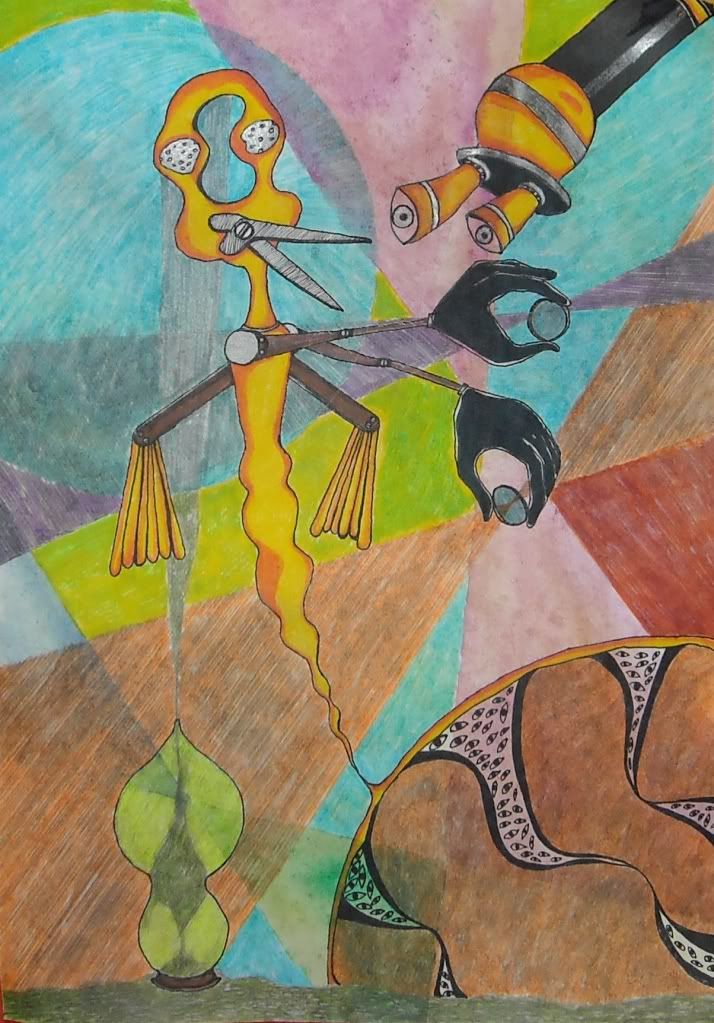 This is inspired from a poem of mine, with the same name. I thought of a creature that is invisible for the eye, something we can see only helped by microscopic lens. And I called it extraterrestrial since it might be a representation from a world we've never seen. Something new and different.
Through convex lens,
A spot is gathered, from alien worlds
Look at the creature, reflecting
In to dust of particles
With body made of bread, dehisceing
Dough flexing
Following the force that's opposing
It distorts and shapes
Blinking with eyes of stone
That mirror nothing from outside
And don't pervade this cold rock soul
Keen metal lips that rive,
Plain gaping, the sounds are hidden
And the time oozes
Through hairbreadths of sand.
Made with watercolors, highlighters, black liner and B crayons.
Size: A3
Composition sent to the "Papergirl Iasi" exshibition.
________________________
M-am inspirat dintr-un poem scris de mine, cu acelasi nume. M-am gandit la o creatura ce nu poate fi observata cu ochiul liber, aproape invizibila ce poate fi observata doar cu lentile microscopice. I-am spus extraterestru pentru ca poate fi o reprezentare a unei lumi nemaivazute pana acum. Ceva nou si diferit.
Prin lentila convexă
S-a adunat o pată din lumi paralele
Te uită cum făptura se oglindeşte,
În praf de particule
Cu trupul de pâine, ce se decojeşte,
Coca i se îndoaie
După orice forţă ce i se opune
Se strâmbă şi se modelează.
Ea clipeşte cu ochii de piatră
În care nimic de dinafară nu se reflectă
Şi nu-i pătrunde în sufletul rece din rocă
Cu buze din metal tăios ce spintecă
La simpla deschidere, de sunete ascunsă
Iar timpul i se scurge
Prin firele de nisip din păr.
Am folosit acuarela, carioci, creioane B si liner negru.
Marimea: A3
Compozitie trimisa la expozitia "Papergirl Iasi"