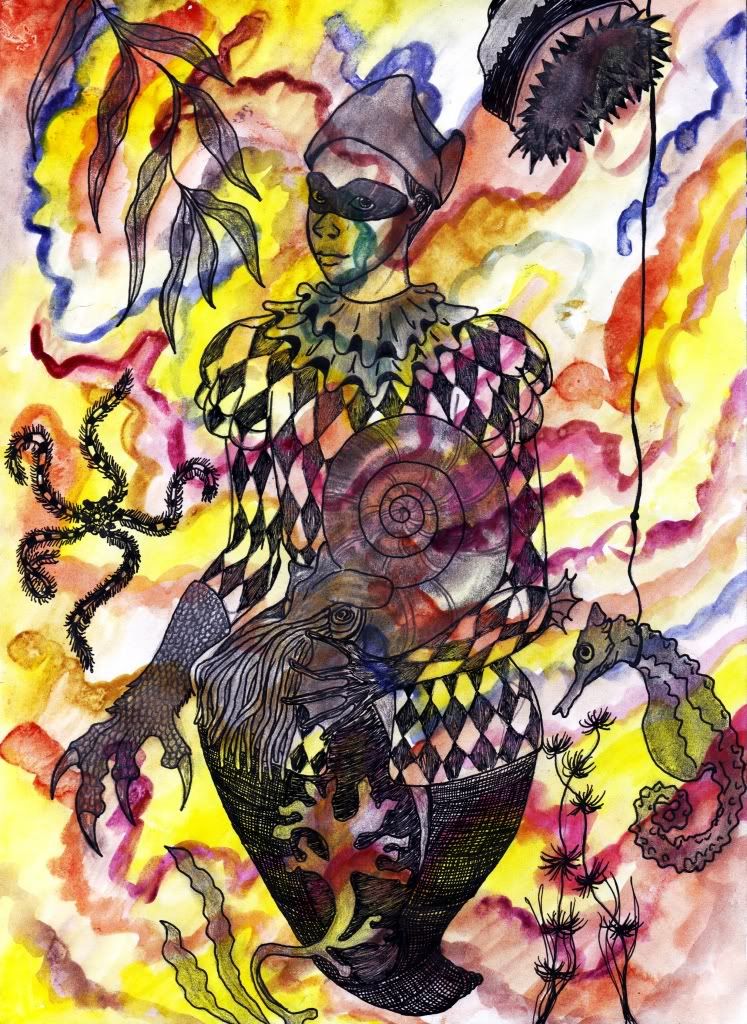 I always wanted to draw something related to a Joker, or a medieval clown (not the nowadays clowns because those scare me, they're ugly). I picked the italian comedy Harlequin, mostly because it was easy to draw, but also because I liked their attire. My harlequin is also a creature of the ocean, a combination of a human-snail coming out of its shell. It has a Ammonite as a pet, the ancestor of a Nautilus, that lived 400 million years ago. I wanted a combination of odd stuff, where anything can be possible, and time represents nothing.
It's clear that I made the watercolor background first and then I used black liner and crayons on A4 paper.
______________________
Intotdeauna am vrut sa desenez ceva legat de Joker sau de un clovn medieval (cei din ziua de azi ma sperie, sunt oribili). Am ales Arlechinul din comedia italiana, in principal pentru ca a fost usor de desenat, apoi pentru ca mi-au placut hainele. Arlechinul meu este o creatura a oceanului, o combinatie dintre om si melc, ce iese dintr-o cochilie. Are un Amonit drept animal de companie, Amonitul fiind stramosul caracatitei Nautilus, si a trait in urma cu 400 de milione de ani. Am dorit o combinatie de lucruri ciudate, unde totul este posibil, iar timpul nu este reprezentat.
Se observa clar ca am facut fundalul in acuarela primul, apoi am folosit liner negru si creion pe coala A4.