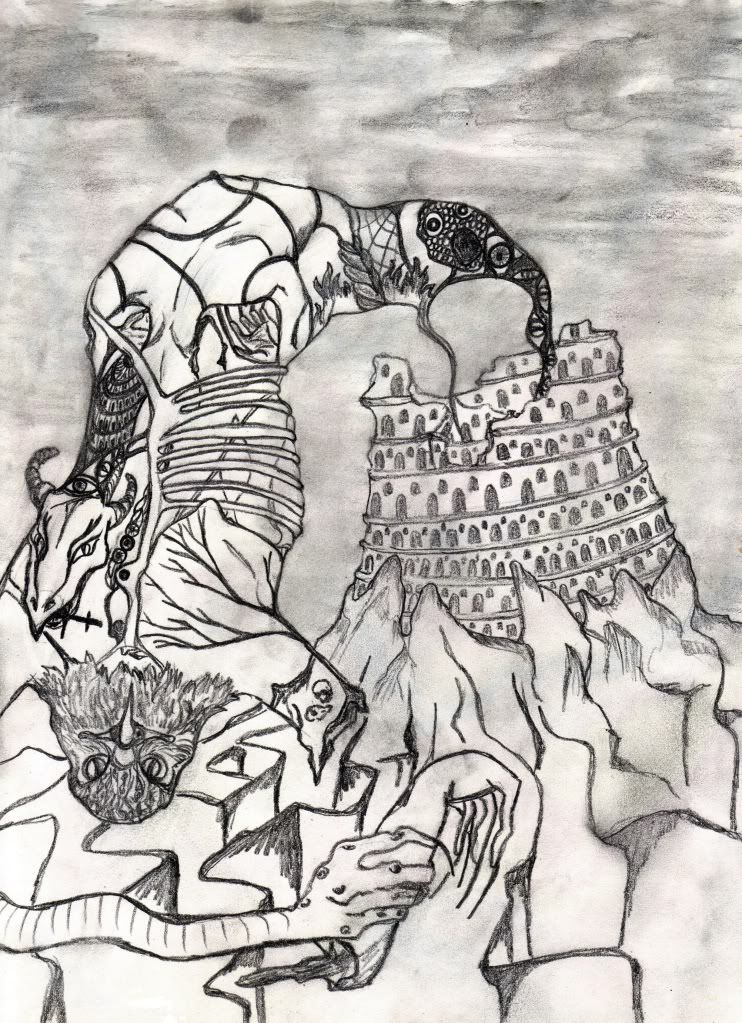 Pruflas is the demon of quarrels, discord and falsehood. Why did I chose this particular demon?
Because it reflects a lot the situation of my family. I come from a disuinited family, and now the faking of sitting all in one house it results only in quarrels and discomfort. Some people who dwindled from whom they thought they where, to who they really are accept reality and truth only with harsh feelings.
I depicted Pruflas as how is described by wiki, I added my own ideas of course, the flame outside the Tower of Babel to keep it with the description, but inside the monster and the head of a hawk, with a human body from where, if you look closely is another human, prisoner, that wants to break the ropes. Also the Tower of Babel, which was interesting to do, because I found lots of interpretations of it.
I would like to add that I don't belive in demons or god, this is only a way to show my idea and to connect it in a negative way to real life.
_________________________
Pruflas este demonul certurilor, al discordiei si prefacatoriei. De ce am ales tocmai acest demon?
Pentru ca reflecta perfect situatia familiei mele. Provin dintr-o familie dezbinata, iar acum falsitatea de a sta toti impreuna are ca rezultat tot felul de certuri si disconfort. Unii oameni care au decazut din stadiul in care se credeau a fi catre cel in care sunt cu adevarat accepta realitatea si adevarul cu sentimente potrivnice.
L-am infatisat pe Pruflas dupa descrierea din wiki, dar am adaugat si ideile mele, flacara in afara Turnului Babel pentru a ma conforma descrierii, capul mostrului aratat ca un cap de vultur, dar cu un corp uman din care, daca priviti cu atentie, incearca sa se desprinda un alt trup uman, o tentativa de eliberare din stransoarea franghiilor. De asemenea, Turnul Babel, a fost interesant de desenat datorita multor interpretari ale acestuia.
As dori sa adaug faptul ca nu cred in demoni sau in dumnezeu, aceasta e doar o modalitate care am folosit-o pentru a reprezenta negativitatea ideilor mele din viata reala.