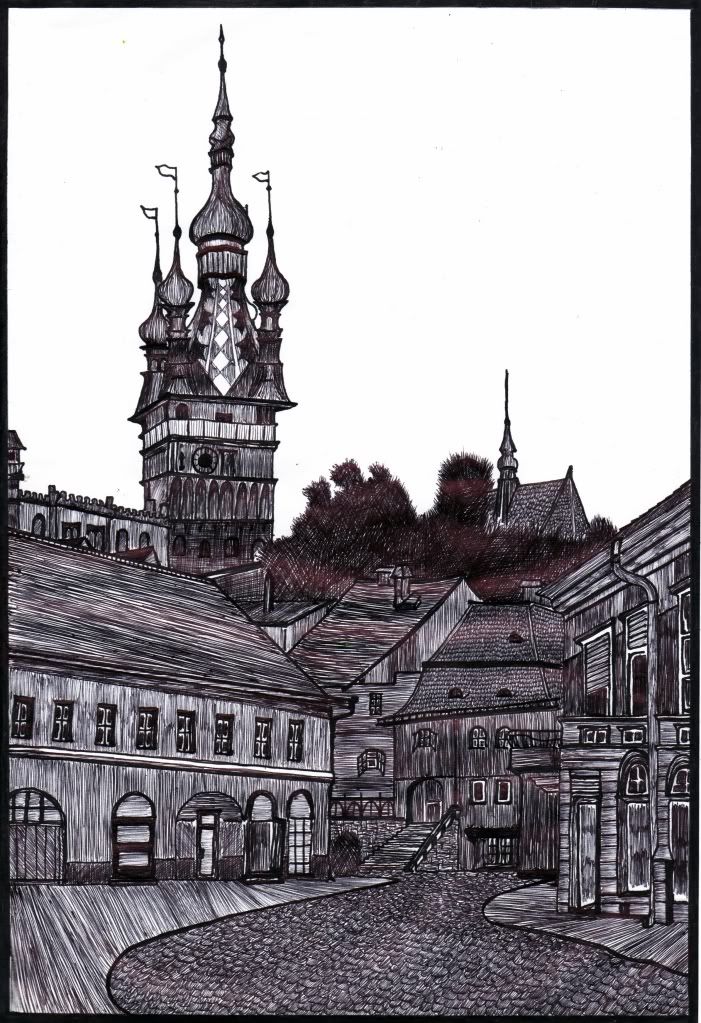 This picture is made by using a picture from an old book that had illustration of all important cities in Romania. It won't be the last one, I'll do more.
Sighisoara is part of Transylvania one of the medieval towns in Romania. Vlad Tepes, the historical ruler, whom Bram Stoker based his Dracula book on, was born in this town.
In a way, although I'm not really a fan of fantasy films, books and other things that have to do with vampires, I'm... hard to say proud, but maybe satisfied that our history, of a small and insignificant country, that many europeans have no idea where it is on the map, gave a myth so strong.
This way, I want to be mean, sort of. Remembering how some french citizens laughed at our country, because we are beggers, because we have thieves, etc. French people gave their own sausage of rulers with blood thirst. Kings and queens, one that was famous of smelling and looking like death.
Compared to Vlad Dracul, they killed their own, for power over people and silly ambition of ruling. Vlad Tepes killed thieves, turkish soldiers from the menacing Otoman Empire.
Our history, dear french readers, if any of you can or will read this, sells, even if it's a prevaricate truth. Yours is not so famous.
And no, most of us are not beggers. Most of us have the same blood in our veins as Emil Cioarn, Constantin Brancusi, or as our hero, that died for your country, Ioan N. Romanescu. But some of you are more preocupied of making fun, rather then knowing your own history. Because only that way you can be disrespectful.
Back to the drawing, is made with black liner 0,5 on A4 paper.
_____________________________
Desenul este facut dupa o poza veche din cetatea Sighisoarei pe care am gasit-o intr-o carte ce contine poze de acest gen din toate orasele importante ale tarii. Am sa desenez alte cateva, deci nu va fi singura.
Compozitie pentru care am utilizat liner negru 0,5 pe coala A4.