I finished doing four of the paintings in my room. They were done gradually, but I didn't want to post them anywhere until I was done with all four. I have to say, that a wall with many paintings, as I saw in many home style magazines, really warms out the room.
____________
Am terminat cu tablourile din camera mea. Le-am facut treptat, si nu am vrut sa le postez pana ce nu le-am avut inramate si puse pe perete pe toate patru. Trebuie sa recunosc, un perete cu multe tablouri, asa cum am vazut in unele reviste de style pentru case, fac atmosfera camerei mai calduroasa.
For these particular two I used Photoshop, my skills are quite bad, so they're not perfectly done.
_________
Pentru acestea doua am folosit Photosop, desi priceperea mea nu prea exista, deci...nu sunt perfecte...
This drawing has a quote I like from a very nice song, "You won't see me coming" by Jean-Jacques Burnel.
It's Gantkutsuou anime's theme song.
____________
Acest desen are un citat care imi place, citatul este dintr-un cantec, "You won't see me coming" de Jean-Jacques Burnel. Este si coloana sonora a anime-ului Gantkutsuou.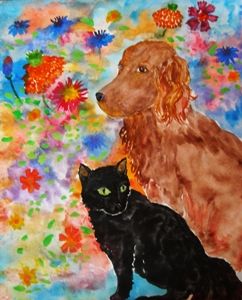 I've used watercolors for this painting. It's a very special one to me. The coker spaniel, his name was Lord, died many years ago. He was my first dog and we cherished him a lot. I kept his first fallen teeth, his first hairs from when he got a haircut and many other memories. He will always be part of our family and we will always miss him...
Motzy was my cat, he was lost two years ago when we moved into our home. I wish he was still alive, somewhere out there. We'll always miss him.
_______
La aceasta compozitie am folosit acuarela. Este una speciala. Cokerul spaniel, numele lui este Lord, a murit cu cativa ani in urma. A fost primul meu caine si l-am iubit foarte mult. I-am pastrat primii dintisori care i-au picat, ciumpii de la prima tunsoare si multe alte memorii. Va fi mereu parte din familie si ii vom duce lipsa mereu...
Motzy, motanul meu s-a pierdut acum doi ani, cand ne-am mutat la casa. Sper sa fie inca in viata, oriunde. O sa ne fie mereu dor de el.